I just got a notification that today, September 16, it's 100 days until Christmas. When I read this many thoughts went through my mind:
What's our obsession with 100?
I wonder why we chose 24 days of advent and not 25, 50 or 100.
Hey – we could count 100 days to Christmas on a Hundreds Chart!
Two good things to do…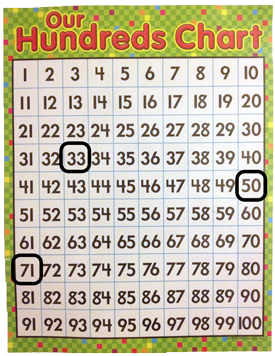 First, sign up to get the fun things from the site 100 Days to Christmas. I just found this site, so I'll be getting those emails brand new like you!
Get out your Hundreds Chart and use it for your 100 Days to Christmas countdown. Pick some favorite or familiar numbers and figure out when it will be that many days to Christmas.
My best friend's favorite number is 33, half of 100 is 50 and I was born in 1971. I'll start with those!
Or choose some special dates and figure out how many days to Christmas those dates will be. Like if your wedding anniversary is on September 29, that's 87 days to Christmas.
Please share what you're doing in the comments!
You might also like:
This post may contain affiliate links. When you use them, you support us so we can continue to provide free content!