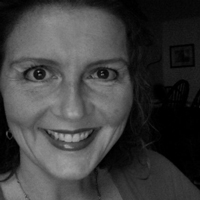 MathFour.com is a free website with  regularly updated and dynamic content for creatively teaching math – in both classrooms and  homeschools! It's based out of Houston, Texas, but applicable to a global math audience.
The content and videos are created almost exclusively by Bon Crowder with an occasional guest post here and there.
About Bon Crowder (me)
I am a devoted math mom, education fanatic and creator of MathFour.com. This includes all those YouTube videos embedded in the site and all the graphics and coding. Which means if something looks terrible or has a weird glitch – it's all me. (Feel free to let me know, too. :D)
I've taught and tutored math to over 15,000 adults in living rooms, classrooms and conferences. And I'm still in the arena – currently I speak at 3 conferences a year and teach special education at a private school a couple of miles from my house. I run to work (yes, on foot) and try to be a good role model both mentally and physically for my two kids. #TryDoesntMeanSucceed
I've been quoted in the Wall Street journal, appeared on eHow.com and Synonym.com, Great Day Houston, NEA Benefits and am an expert on NBC's Education Nation Parent Toolkit.
I write iPhone apps for oilfield math and am the co-developer of That's Math! – an online learning tool for parents.
I love to work with teachers, parents and brands – learn how to hire me for any of your math teaching or learning needs here.
In the meantime, connect with me on Twitter, Facebook, Google Plus or Pinterest or send me an email at bon at mathfour.com!
I'm glad you're here!
Take some time to browse around. Check out the main resources in the right column. Sign up for the newsletter to get even more helpful tips and to start a dialog via email.
If you have a suggestion, want me to explain a topic, or just want to visit about math or kids – I'd love to hear from you. Comment on the articles and videos or send me an email. My email address is Bon (that's my name) at MathFour.com.
Want to connect on Twitter or Facebook or Pinterest? I'm there too!