I recommend the products below for math learning. In addition, I have them all, so if you have questions, please contact me. I'll either answer your question directly or write an article on it for you.
---
Magna-tiles
Daughter got a set of these for Christmas. I can't get enough of them.
And since they stick to the fridge (they're magnetic) they're easy and fast to use!
Find Magna-tiles here from the manufacturer or from Amazon.com.
---
Math on the Level
This is my curriculum of choice for K-8 math. Look for articles on it soon!
Things I love about it:
No fake "order" to the topics. There's a suggested order if you need help, but there's no imposition.
Allows you to teach each child based on their level of maturation. Thus the name, Math on the Level.
Uses a nifty 5-A-Day set-up for problems. Instead of horrid drilling, there is a sweet, peaceful way to do a quick page of 5 problems. They are chosen based on how your child is doing with all the topics.
Very reasonably priced. This covers ALL K-8 math. Less than $35/year!
---
IXL Math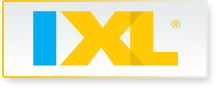 I previously wrote a pseudo-review of IXL Math and did not recommend it to readers. Since then, they hired me to consult and asked me to take a detailed look at their product. I returned a 19 page report with suggestions on improvement.
So why do I recommend it now? Three reasons:
It's full of tons of problems from which students would benefit – both from the perspective of practicing common core standards and state standards as well as what a home school might want for children.
It has amazing potential. The suggestions I gave are refinements – not full-on changes. For example, some elements of IXL Math are written like typical textbooks. This is normal, but not optimal.
I believe IXL is willing to, and will, make these refinements to improve their product. They really seem to be interested in providing a great product. With that attitude they are a great asset to the math learning community!
What is it? It's an online practice tool with a bazillion problems categorized in such fine detail that it boggles the mind. It's supposed to be K-8 or 9, but I know my developmental college students would benefit from the practice it offers.
---
 

Simply Fun's Sumology

Sumology is a game, but there's so much more you can do with the number tiles. I've created a way to do long division with them, shown in this video.

Number tiles are SO COOL! I can't wait to do even more!
---
---