Last week, Wil and I were at the . We learned so much and had a great time – and found tons of neat stuff!
I walked away with so much knowledge and quite a few great products – and Wil ended up with some too. Here are our fun finds and great product choices – look for more information on each soon!
The MathRack
The MathRack is an amazing product built by even more amazing folks. They started in their own home, and they still assemble the MathRack by hand in their garage.
I know I should share a photo of the product, but Scott Rule, owner, founder, chief cook and bottle washer of MathRack, is such a sweetheart – and has worked so hard on the product – I couldn't resist including this fun photo of us!
The Ultimate Puzzle
Anette offered a free Ultimate Puzzle to anyone who could solve it in less than 5 minutes. Both Wil and I tried our hand at this puzzle developed in Estonia.
There are over a bazillion million hundred billion ways this thing can go together – and only 200 of them will work!
Alas, I ended up buying one of them.
Dinah Zike's Alphabet Tabbed WrapAround
Last week I put alphabet tabs on a Moleskine book to help me teach K8 to read. Then I found Dinah Zike's Alphabet Tabbed WrapAround. It's amazing and I can't wait to use it!
Flashdisc – Wheel of Facts
The Flashdiscs are a nifty little self-checking set of fact helpers. They come in both addition/subtraction and multiplication/division.
Luckily Wil could actually use a set of these with his tutoring clients – I got him to pay for it!
Math Olympiads
Math Olympiads is a monthly competitive math fun for classroom schoolers and homeschoolers. Seems very cost effective and lots of fun for kids of all ages.
Tons of ideas!
We learned about numeracy and using "Number of the Day" exercises from two fabulous teachers from Conroe ISD. We learned great ways to use the MathRack from the beautiful and awesome Christina Tondevold.
We even got some great giveaways from Kaplan Elementary and Frog Publications that we'll be dissecting so you can use them at home (they're currently only priced for full classrooms).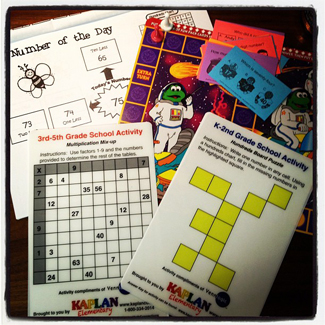 So look for detailed articles on these and other great math learning ideas coming soon. I'm kinda bubbly inside from all I have to write on.
… and next week is the Homeschool Convention!
You might also like:
This post may contain affiliate links. When you use them, you support us so we can continue to provide free content!