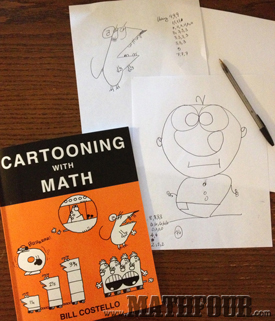 The Cartooning with Math book showed up in my mailbox this morning (not surprisingly, since I ordered it a week ago, but still…)
I was so excited to play – and for good reason. I'm generally a terrible artist. So I welcome step-by-step instructions to draw fun things.
And how much more fun could you possibly get than cartooning with math!?
The drawings work!
I followed the instructions and did a pretty good job:
Notice the numbers in this detail. From top to bottom – 8 (sideways), 1 (sideways), 0, 1, 7.
The problems are fun.
He offers a word problem at the end of each of the drawings based on the numbers used in the drawings.
It's only one, so it isn't too much that it takes away from the drawing fun.
I want more!
The book gives you just enough drawings (a dozen or so) to get a feel for cartooning with math. It's great for getting your kids to start creating drawings and word problems of their own.
It's only $8.95, so if you have interest in math or the fine art of cartooning – get Cartooning with Math now. You'll love it!
And don't forget to share your drawings – link to them in the comments!
You might also like:
This post may contain affiliate links. When you use them, you support us so we can continue to provide free content!