I'm at the Domestic Estate Manager's Association Convention this weekend with Husband and I've discovered a marvelous math tool. It's called "The Butler Stick" and it's used by butlers and other domestic service personel – mostly.
But there's a lot of math in it – enough to integrate The Butler Stick into your world as another learning tool.
On one side it's a yardstick.
The Butler Stick has thirty six fun inches to measure just about anything. It's foldable, though, so you can store it like a standard ruler.
You can show an equilateral triangle with it, as well play with various angles.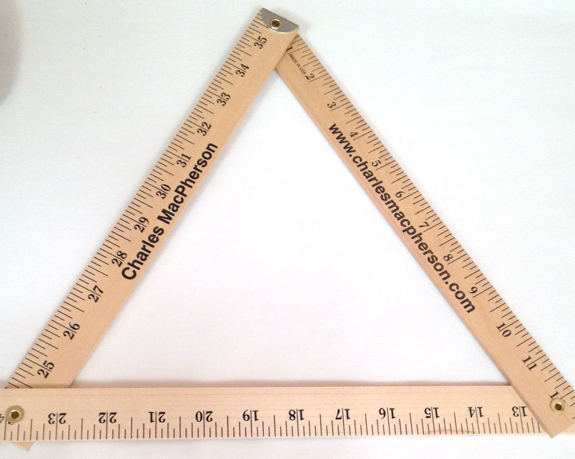 On the other side it's a number line!
Okay, so it's missing the negative signs on the left, but those are easily added with a sharpie.
The Butler Stick is typically used to set a table. The plate is centered at zero, and from there you can symmetrically lay out the flatware and other bits.
You can use it to teach proper place setting (something every child should know) and inject some math into dinnertime!
You can also use it to create other things of symmetry. Use it to have fun with math during art lessons.
Treat your family to one!
They sell The Butler Stick at Charles MacPhearson's site, but you have to call to order it (416-369-1146). It's not cheap, at $24.95, but it's well made and looks like it would take a beating from a few children. (But not give a beating!)
Or you could try it out for a while by making your own. Use some some cardboard and rivets and you'll be able to see the value of it. It's a crude version, but the math's the same.
Once you see how cool it is, you'll be calling them up – just like me!
You might also like:
This post may contain affiliate links. When you use them, you support us so we can continue to provide free content!