See update below

Homeschooler @Ser3nd1pity requested my thoughts on the math program from IXL via twitter a few days ago.
So I checked it out.
When looking at the IXL sample page, I started having some concerns. Here are some screenshots that I'm running into, as well as my thoughts:
Kindergarten Skills
Some people say "dinner" for "lunch." They reserve the word "supper" for the evening meal. Instead of using terms that might be cultural, perhaps they could have used breakfast.
I was so confused by this one. I've never seen a graph made of two objects. Nor have I seen graphs made with giant Xs. I think a graph with lines or bars instead of Xs would be clearer. As well as having a few of the objects, not just one of each.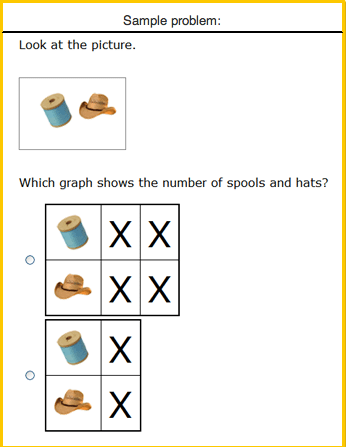 These suitcases appear to be the same but zoomed in. A reference object would certainly help this.
I didn't know what plane geometry was until college. I'm pretty sure that five-year-olds and their parents will figure out what the answer is, but the question stem is written at a really high level.
Grade 2 Skills
The right answer (the pens) are very very hard to see here. And the various colors and objects are confusing. Better would be the same objects, or bigger or with more space between the lines.
These pies really look the same to me. If I look and count really, or look at the fractions, I can see they're different. This might be more effective without the pictures.  For a seven year old (and for me), if you had 2/10 of that pie and he (or I) had 2/11 of that pie and it looked like these pictures, they could easily be perceived as the same.
Stopping Now
Of course I haven't really gotten into the curriculum. These are merely samples. I don't know how they teach this in the IXL Math Practice program. I worry, though, that these examples might be representative of the way it is taught.
I welcome a view into the curriculum, if they're interested in more thoughts on their offering.
---
Update March 29, 2012: IXL has communicated to me that they've been making changes – including some based on this article. They've also hired me to take a deeper look at their product and give them feedback. I look forward to seeing what they've got.
I'll post updates, so stay tuned!
---


This post may contain affiliate links. When you use them, you support us so we can continue to provide free content!