This is part of the Teaching Math with Picture Books series.
I'm a big fan of Sandra Boynton. So when I found her One, Two Three! book at a resale shop I was ecstatic.
It blends personal relationships with counting.
Each of the numbers from one to ten connects to an event that might require that many people.
For social situations like having a private conversation, you need two people. So "two is right for a quiet talk."
Major math concepts are used too.
You can discuss one-to-one correspondence of teacups and friends: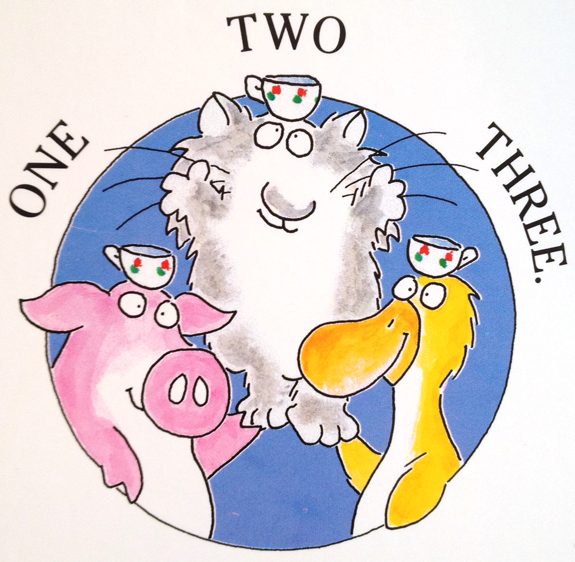 And kids can speculate on the jersey numbers on the Pigglystick players:
Seven gives a fun way to see subitizing in action. And there's even a hint of multiplication in the two rows of four hippos taking a ballet class!
And the best part…
Sandra Boynton's One, Two Three! is a board book! So you can introduce all these great math concepts to your toddler!
Head out and get a copy and tell me what you think in the comments. And don't forget to share it on twitter!
Other Articles in the Math Picture Books Series:


This post may contain affiliate links. When you use them, you support us so we can continue to provide free content!