This is part of the Teaching Math with Picture Books series.
After publishing my recommendation of You Can Count on Monsters, a reader emailed an equally compelling suggestion: Blockhead: The Life of Fibonacci, by Joseph D'Agnese.
Armed with my new Barnes & Noble membership card, I scurried down to the bookstore to get it.
It's not just math.
Intertwined in this tale of the great mathematician Fibonacci, are fun historical facts and a coming of age story.
I learned the approximate time Arabic numerals started making their way to Italy and when the Leaning Tower was built.
D'Agnese has Fibonacci narrate the story. Through his eyes we see the difficulties of a smart boy with moxie. He struggles, but doesn't let the ridicule interrupt his dreams.
And there's plenty of math, too!
Of course no picture book on Fibonacci would be complete without the rabbits. Illustrator John O'Brien doesn't disappoint: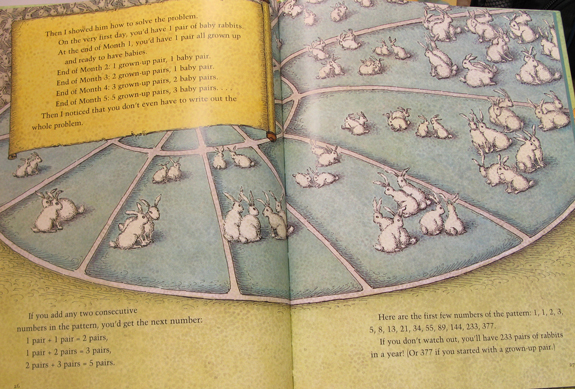 And there's math filtered in the images all over the place. Here's an obvious one:
Brilliantly, they've included a "Can you find…" page at the back to encourage and support children and parents in finding the beautiful countables.
They even offer ways to find math in your own kitchen and backyard!
Your turn…
Go grab Blockhead: The Life of Fibonacci at your library or bookstore. Enjoy it alone or with kids – it's great either way.
And do share your thoughts in the comments and on twitter.
P.S. Writing this inspired me to think of a way to remember how to spell Fibonacci. Acci & Fred were friends until one day bad Fred told a Fib On Acci.
Related articles


This post may contain affiliate links. When you use them, you support us so we can continue to provide free content!