For many across the  world, today is the first  day of school. For after schooling families, or blended homeschoolers going to a co-op,  you've probably been shopping for new clothes for a few weeks. For those in areas that offer tax-free back-to-school weekends, you no doubt have taken advantage of that. Even if you unschool on a sailboat hopping around the coast!*
And why should the children have all the fun? Why not do a little back-to-school shopping of your own?
And of course, don't just buy any clothes, buy math clothes!
Math accessories dress up a business or formal look.
At a fancy business meeting, or a full tilt gala, show your  affinity for math with your jewelry. This Fibonacci sequence necklace is a beautiful addition to the little black dress or business suit:
This artist is working with me to create some really neat Fibonacci earrings and matching bracelet. We're also working on other patterns and concepts for jewelry that says, "Math is cool, and it's pretty too!"
Business casual means t-shirt with a blazer.
My favorite outfit is a math T-shirt with a blazer over the top. I wear some slacks and modest heels and I'm ready to take on the world. Here's a T-shirt that I found that's on its way to me now:
This "obtuse" shirt is created by Matt at ExBoyfriend Collection, who is generous enough to give one to me! I'll post a photo in full dress when it arrives.
It reminds me of what my Ma used to tell us: "Quit being so obtuse!"
Matt creates other math t-shirts too! We're looking at collaborating on some – so keep your eyes peeled.
Take it to the limit with casual wear.
You can also wear a t-shirt as just a t-shirt, with shorts or capri pants.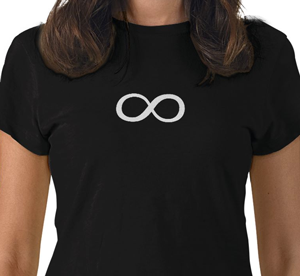 This infinity shirt is from Mike who publishes MathFail, Spiked Math Comics and Math Shirts.
What's your favorite math outfit? Are you hitting the stores for yourself this back-to-school season? Share with us in the comments!
* BTW, that's my homeschooling dream – on a sailboat, unschooling around the coast!
---
Related articles


This post may contain affiliate links. When you use them, you support us so we can continue to provide free content!