I saw natural math ability yesterday!
K8 was hunting Easter eggs at Mawmaw & Pawpaw's house. She saw an egg inside the sandbox. As she reached into the box she realized the egg was too far away.
She was standing where the footprints are. The egg was where the striped egg is: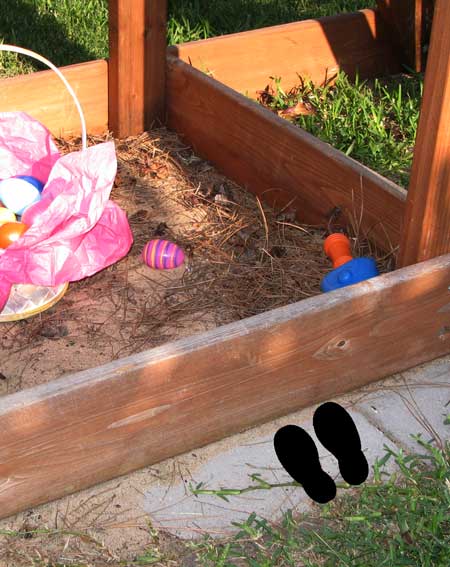 She needed to step inside the sandbox.
The "easy" answer was to step inside the sandbox. But she wanted no part of the gritty sand.
With no hesitation, she moved from her location, around the sandbox to the new spot:
This took some effort because she had to squat to get under the ladder. But she had seen that avoiding the sand was possible if she accessed the egg from the other side.
She recognized and compared distances!
With no vocabulary or formal training (indeed she's 2 1/2 years old) she identified perpendicular distance! She assessed which side of the square sandbox would minimize this distance. And she acted on that assessment.
It's normal for parents to believe their children are especially smart, gifted or brilliant. I believe that all children are these things.
Kids have a natural math ability. And so do you.
What do you think? Share your thoughts in the comments and make sure to share this story with your twitter network!
Related articles
This post may contain affiliate links. When you use them, you support us so we can continue to provide free content!