Itching to use your iTunes gift cards on some iPhone/iPad apps? How about some fun math games to keep the kiddos entertained while they learn math at the same time?
Here are ten of my favorite math games!
Toddler Counting – $0.99
Toddler Counting is a simple app that lets little ones count each item. When they touch it, the number appears and the word is said. It helps kids connect the counting numbers with the items – a pretty advanced concept.

PopMath – $0.99
PopMath is a timed game, so you get to compete against yourself. It has varying levels, so it's perfect for grade school through middle school aged children. Secondary school aged children will love the competitive nature of it – I even love playing it!
KidCalc – $0.99
KidCalc has many different types of math games to play. The best part is that you can vary so many parts of the game – hitting lots of levels and skill sets. The fun might not extend up into secondary school levels, though, as there's no competition involved.
I've set up KidCalc to handle only numbers from 1-3 in the addition game. That way even two year old Daughter can play!
SumsStacker  – $1.99
Great for middle school or secondary school aged kids, Sums Stacker is one of those math games  that's not so blatant with the math. You have to move the pieces to sum up to the numbers below the stacks. Here the game is shown with Roman numerals, but you can also choose US coins, numerals and dice.
 Algebra Touch – $2.99
I discovered this iPhone app at a family party. My cousin was playing Algebra Touch – and he's 40-something!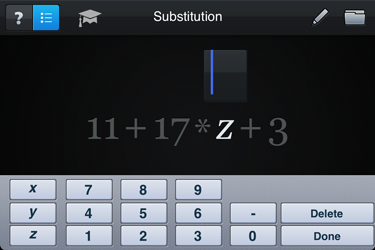 This app is great for kids learning or practicing algebra concepts – as early as middle school. There is a guided tutorial as well as various levels of gaming.
MathemaChicken – $0.99
I really can't stand this game. And I'm amazed that Daughter loves it! I'm including MathemaChicken here because I realize that my "likes" might not be the "what works" when it comes to math gaming.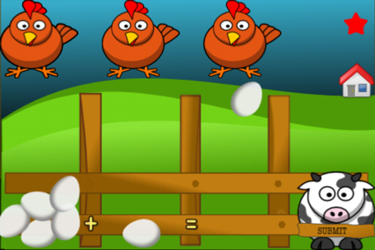 The first two chickens "lay" eggs – clucking each time. When they're done, you touch the last chicken to inspire her to lay enough eggs to represent the answer. Pretty annoying, right?
Daughter can't get enough of it. She has the hen lay the eggs then "pops" a few of them. Then she'll hit the "Submit Cow" and he'll give the wha-wha-WHA sound that she got it wrong. Every now and then the cow will give her a round of applause to tell her she's right.
I suspect that Daughter will eventually figure out what's going on. In the meantime, I'll just deal with the clucking.
MultiAlien – FREE
Greg Herlein created MultiAlien to capitalize on the "kill the aliens before they kill you" principle. And what a great job he did. I love playing this iPhone app. It's not appropriate for toddlers, but middle school and secondary school kids will love it.
Zoom – $2.99
I can't get enough of Zoom! It's only based on the number line, but what fun! You have to zoom in and out, and flick left and right to find the bubble number on the number line.
Game selection includes positives, negatives, fractions/decimals and all sorts of ranges as options. There's even the "needle" option that puts a timer on the game!
Great for grownups and teens at higher levels, and perfect to teach younger children the number line!
Hungry Fish – $1.99
Such a sweet little iPhone app! Like Zoom, Hungry Fish is developed by Motion Math Games.
Combine the number bubbles to be the "desirable" number for your fish to eat. The more he eats, the bigger he gets. And at each level, you win new options to customize him!
Motion Math – $1.99
The first from the developers at Motion Math Games, Motion Math uses the accelerometer to let you bounce the fraction ball at the right spot on the number line. The more you get, the more challenging the game gets.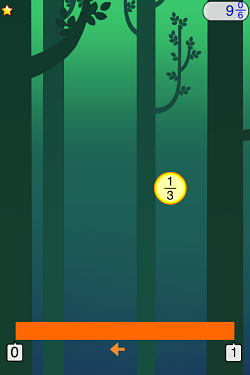 It even will prompt you if you get the answer wrong.
This iPhone app is good for middle school through secondary school aged kids – and great for math geeks!
Your turn…
What's your favorite math game iPhone app?
This article is also listed on
Related articles
This post may contain affiliate links. When you use them, you support us so we can continue to provide free content!