Ever tried to teach someone how to remember this math rule:
Or tried to remember it yourself? Do the letters trip you up? Or your students?
How about this one:
I did a video on this some time ago. It has more Xs than an adult movie theatre. Here's a still from the video: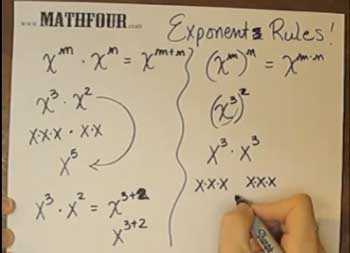 In general, it's a good way to remember the rule.
But what if variables freak out your students?
I'm the only person I know that teaches a kid to count, "1, 2, 3, x, 5, 6, …" (And I'm saving both for Daughter's college fund and her psychiatrist.)
Most people aren't even told about letters in math until they're well established in doing stuff with numbers.
So why do we use letters to explain stuff?
A tiny detour…
I just geeked out and bought a course on google analytics through App Sumo. Andrew Warner with Mixergy, in the first video, was interviewing Justin Cutroni.
In less than two minutes I had to pause, rewind and listen hard to what Justin said:
Actual data makes a huge difference when you're teaching.
Wow.
Rewind. Re-listen.
What I heard was, "Hey! Knock it off with the letters already! Use some actual numbers when you're teaching stuff!"
Hey! Use some numbers!
Theory is great. If you're into that kind of thing.
But when we're learning, we need something to hold on to. That's both "we" as grownups in Justin's Web Analytics class, and "we" as kids in Miss Kelly's Algebra class.
We need data. Numbers.
Something that feels good, makes sense and is easy to wrap our brains around.
So what's up with the letters?
Math books and math courses are written by mathematicians. Folks who are as comfortable with letters as they are with numbers. People who can take theory to new heights of abstractness. And never need a beer doing it.
Everyone else, well, they're just unfortunate casualties.
But you can change that!
You don't have to be a mathematician to teach math. In fact the less of a mathematician you are, the more likely you are to succeed in teaching math.
Pull yourself out of "teach like a mathematician" mode and think about what a variable is.
It's a number. It's data. Just an average ordinary thing that you can represent on your fingers.
So now, what does this mean:
Maybe this:

Or this:

Or even this:
And after you and your child play around with these and other examples using regular old numbers, your kid will say out loud:
You just gotta add up those number that are flying in the air.
And he'll be right.
Actual data.
Period.
Whatcha think? Share in the comments or via twitter: agree or disagree"].
Related articles


This post may contain affiliate links. When you use them, you support us so we can continue to provide free content!