Here's a FREE Activity Packet to read and share with your children to get them thinking about how numbers got started.
Somewhere in the past we recognized that we have these "digits" on the ends of our hands. Using these, we created numbers, adding, subtraction, multiplication, division and even fractions!
To get it, all you have to do is tweet it or post it on Facebook and it'll download immediately for you!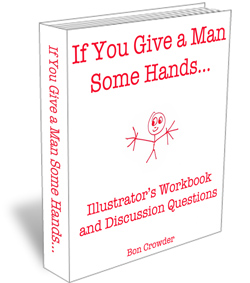 When you get it, unzip it and you'll have all this great stuff:
If You Give a Man Some Hands ebook (IfYouGiveAManSomeHandsByBonCrowderMathFourDotCom.pdf)
If You Give a Man Some Hands Illustrators Workbook (IfYouGiveAManSomeHands_IllustratorsWorkbook.pdf)
If You Give a Man Some Hands Supplemental Questions (IfYouGiveAManSomeHands_Questions.pdf)
A list of math resources for homeschooling and afterschooling parents (HomeschoolMathResources.pdf)
A reprint of the article 9 ½ Ways to Homeschool Math (WaysToHomeschoolMath.pdf)
Have questions? Ask here or shoot me a note with the contact form.
Related articles


This post may contain affiliate links. When you use them, you support us so we can continue to provide free content!