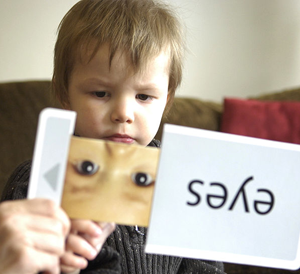 Siggi over at Turkeydoodles wrote a post about her preference of calculators over flashcards. It's her preference, but her arguments seem to be founded on the misuse of of flashcards. Furthermore, it seems she's not seen the detrimental effects of early calculator use, yet.
When you should give a kid a calculator is a topic for another article. In the meantime, here are some tips on good flash card usage.
Flashcards are educational toys.
Flashcards shouldn't be used as testing devices. They're educational toys. They're exploratory devices. Let them "peek" as much as they want.
As a first introduction, use them to build houses of cards. They should be fun and comfortable.
They are limited in scope.
The 6 x 8 = 48 card will never be able to give the cosine of 60 degrees. This makes the flashcards so beautiful. Once you understand what happens when you create a calculator addict, and see how that works as the kid enters college, you'll know how important this limitation is.
Encourage variation to limit boredom.
I distinctly remember using flashcards in my dining room, sitting next to the sliding glass door. I was reading them. But because they would get boring, I would chant them. It became sing-songy and fun. I could go through them quickly this way.
And I looked forward to the ones that rhymed.
Let the flashcards be rejected.
If a kid really hates them, let it go. There are other ways to get that information across. Schoolhouse Rock's Multiplication Rock is a fabulous tool for this.
And you can sing or chant multiplication facts yourself. My mother learned the most common prepositions by saying them as she jumped rope. You can vary some skip counting with jumping rope to learn multiplication facts:
3 x 1 = 3
3 x 2 = 6
3 x 3 = 9
and so on…
Allow the flashcards to be the context in and of itself.
It is not necessary that math be learned in context. So many people keep pushing this. Sometimes it's just fun to know random stuff – including some quick and nifty facts.
Don't push math for math's sake, but offer it. There are kids, lots of them, who just like to do puzzles. Plain math – arithmetic and facts – is a great puzzler.
What do you think? Is this a better use of flashcards than the ones you've seen? Share your thoughts in the comments.


This post may contain affiliate links. When you use them, you support us so we can continue to provide free content!