I'm currently enrolled in a Stanford University MOOC (massive open online course) called How to Learn Math. It's designed for parents and teachers, but it's a variation of the face-to-face course they teach to students.
What most interested me today was the discussion on "compression." And how I can apply this to teaching College Algebra.
Your brain compresses what it learns.
When you learn a new math concept, it takes it up a great deal of space in your brain. After you practice it and master it, it becomes compressed. Which means it sort of becomes second nature.
The "steps" you used to learned to do the process, you now can do in one step or even instantaneously.
As you learn more advanced things, those older processes don't take you near as long as they used to. But the new things you're learning do take a long time. At least until they get compressed.
Here's what learning looks like when your brain compresses: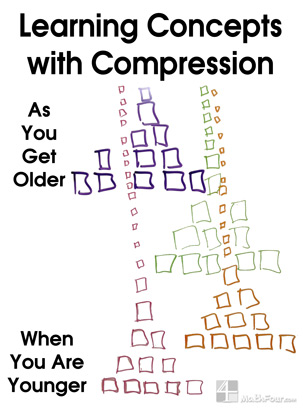 But if you don't have a good sense of number, this compression process doesn't work for math concepts. Which means your learning looks like this: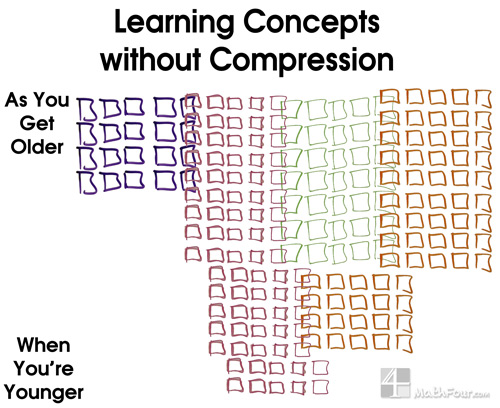 You're doing every method – fully with all the steps – all the time!
And it happens!
I call this process "internalizing." Once you do something many times and fully understand it, you internalize it. It just becomes part of who you are.
It never occurred to me that my students may be unable to internalize because of their lack of number sense!
Which means that every new process they learn gets crammed into a set of processes that they are holding onto – and they keep every single step!
What if we taught College Algebra differently?
At this level they've seen the algorithms – maybe even many times. There's not a single person in the class that hasn't been subjected to solving for x, PEMDAS, or graphing.
What they haven't been able to experience is a true sense of number.
So I'm wondering if college algebra shouldn't include a huge unit on number sense. Perhaps even 1/2 to 3/4 of the semester.
Can I teach College Algebra without variables?
Is it possible for adults to gain a sense of number and compress the algorithms they already know in 14 weeks?
Of course the algorithms will be reinforced by the arithmetic (after all – arithmetic is algebra). But what will that look like?
And should I try it?
Please let me know your thoughts in the comments, or via Twitter (tweet "Do it!" or "Don't even try!").
I'm itching for some feedback on this one!


This post may contain affiliate links. When you use them, you support us so we can continue to provide free content!