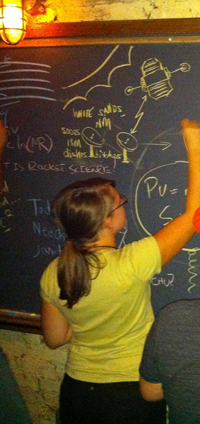 The order of operations includes two types of rules: those that are based on the way the operations work, and those that are arbitrary. My friend @harrisonalg from the Twitter chat #mathchat and I have been discussing this.
You can explain the truly arbitrary elements of PEMDAS (the left to right of AS and MD) through an experiment. Allow students, independently, to do these two problems any way they want, ignoring any stupid arbitrary rule they might have previously memorized:
3 – 2 + 8 – 3 + 4
2 x 7 ÷ 2 x 6 ÷ 3
The idea is that they will come up with many different answers:
3 – 2 + 8 – 3 + 4 could be any of -14, 0, 10 or others
2 x 7 ÷ 2 x 6 ÷ 3 might be 7/18, 7/2, 14, etc.
If they were on a team building a bridge with these calculations, things wouldn't work so well.
Enter the Stupid Arbitrary Rule (SAR).
Because we need to all come up with the same answer, we need a rule to follow. Really, it can be any stupid arbitrary rule (SAR). But we agreed, at some point in history, to all follow the "left to right" thing once we were down to addition & subtraction or multiplication & division.
It's important to note that kids didn't get to be part of that agreement we made. Just like they don't get to vote in elections.
Is it fair? Probably not. They would probably do a better job of choosing leaders as well as determining the order of operations. But that's the way things likes SARs work.
PEMDAS doesn't cover it all!
To throw a few more kinks into it, check out how wikipedia explains some special cases of the order of operations. . Factorials aren't covered in PEMDAS, neither are the order of exponents.
Here's another fun one: even calculators do things differently (and arbitrarily). Check out the way the the TI-92 and the TI-30XII handles exponents. Clearly you get to make up your own order of exponents!
Let them play king: they create the rules!
Let your students determine the order of operations for addition & subtraction and multiplication & division – just for the class. Make sure to write the rule down and tack it to the wall so everyone remembers what they decided. In your class, and your class only, they are to follow that rule.
Remember the back of the book, as well as your answer keys or teacher edition textbook, will now be totally wrong. But it's worth it.
Doing it this way they might start to understand which pieces of PEMDAS are dependent upon the way the operations are constructed () and which pieces of PEMDAS are arbitrary (left to right).
Once the class determines their special arbitrary rule, practice creating expressions whose result is some important number. Some options could be:
The age of one of the kids
Someone's favorite number
Your age (be careful)
The age of some other grown-up they know
The last four digits of their phone number
The number part of their street address
Create the expression using the Class Rule as well as the stupid arbitrary rule. Then translate and have a good laugh. I just did my age with my "Bon Rule."
Bon Rule: addition and subtraction go from left to right, and multiplication comes before division.

My age is 120 ÷ 2 x 3.
If I did this according to the SAR, I'd be dead. Or really famous.
Your turn!
Can you teach the order of operations like this with your kids? If you classroom school, how much trouble are you going to get in when you become the math teaching rebel?
Share your experiences in the comments!
Related articles
This post may contain affiliate links. When you use them, you support us so we can continue to provide free content!