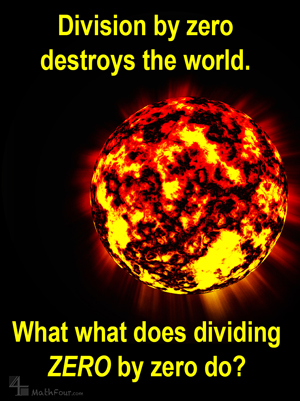 I got myself in a jam the other day in class. I said "0/0 is undefined."
Since I encourage students to always question the (rather confident) stuff that comes out of my mouth, they did.
So I proceeded to explain it… And got hung up!
0/0 is not undefined!
Turns out I was wrong. Infinitely wrong.
Let's say 0/0 is 85. (Just join me on this journey – don't freak yet.)
So 0/0 = 85, which means 85 x 0 = 0 and 0/85 = 0.
Which is just fine!
But the guy down the road might want 0/0 to be -72π instead. And it'd be just fine, too.
But then 0/0 = 85 and 0/0 = -72π.
And then you come along and want 0/0 to be 1,000,000.
Which means if I have $85, I also owe someone $72π, and I also have $1,000,000.
I assure you, I don't have $1,000,000.
So 0/0 is indeterminate.
0/0 doesn't not exist. It just exists as too many things. And when that happens, I'm a millionaire. And so are you.
In reality, this isn't true.
At least about me.
Your turn…
Did you ever get this one confused? Share your thoughts in the comments!
This post may contain affiliate links. When you use them, you support us so we can continue to provide free content!