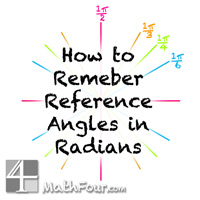 Converting degrees to radians is one thing (multiply by

). But remembering the standard reference angles in radians is a bit more of a challenge.
If you tap into you basic counting nature, it gets easier.
Counting Reference Angles in Radians
I made an animation showing how to "count" reference angles in radians.
Notice the way the angles count around using the numerator of the fraction, while holding the denominator constant:
Can you use it?
How about it? Will you be able to use this to teach reference angles?
Share your thoughts in the comments!
This post may contain affiliate links. When you use them, you support us so we can continue to provide free content!