The sweet ladies at Blinds.com got me into another fun round of crafty goodies – this time with symmetry!
Unfortunately, I'm stuck in a hospital room with limited supplies. (No biggie – just fixing to give birth.)
I did all of the following with tinsel cord, some blinds samples and a tiny pair of scissors.
Christmas Tree
This one looks like a Christmas tree. It was my first attempt and it turned out pretty good!
Notice the vertical symmetry.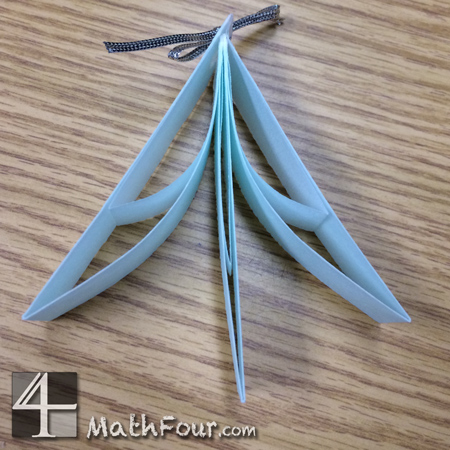 Ribbon Candy
I noticed that a single blind sample like this did neat things, so I put two together. They turned out looking a lot like that weird swirly ribbon candy.
If it would sit right, you'd have some vertical symmetry. But you can also see the pattern of the cells going down.
Snow
This was the only one I got to cooperate when opening it up sideways. I call it snow because it doesn't look that much like a typically beautiful flake. But it's still white and kinda pretty.
Oh, and it has rotational symmetry!
Mistletoe
This one is made from the same blinds sample as Snow, but I can't help but see mistle toe in it. Maybe I can dip it in some green food coloring when I get home.
The symmetry here is a little mushy, but you can tell it wants to be symmetric.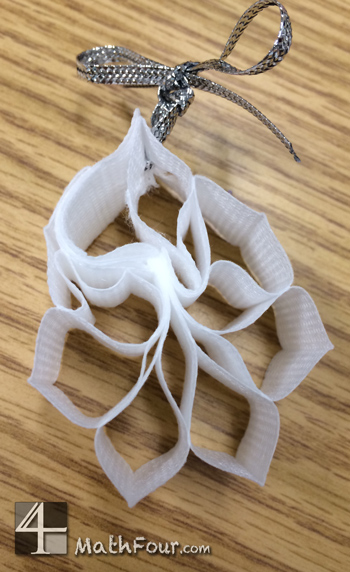 Your turn!
Order some blinds samples from Blinds.com and see what you or your children can come up with. Check out the symmetry as you go.
And don't forget to share this on Pinterest, Twitter and Facebook!
This post may contain affiliate links. When you use them, you support us so we can continue to provide free content!